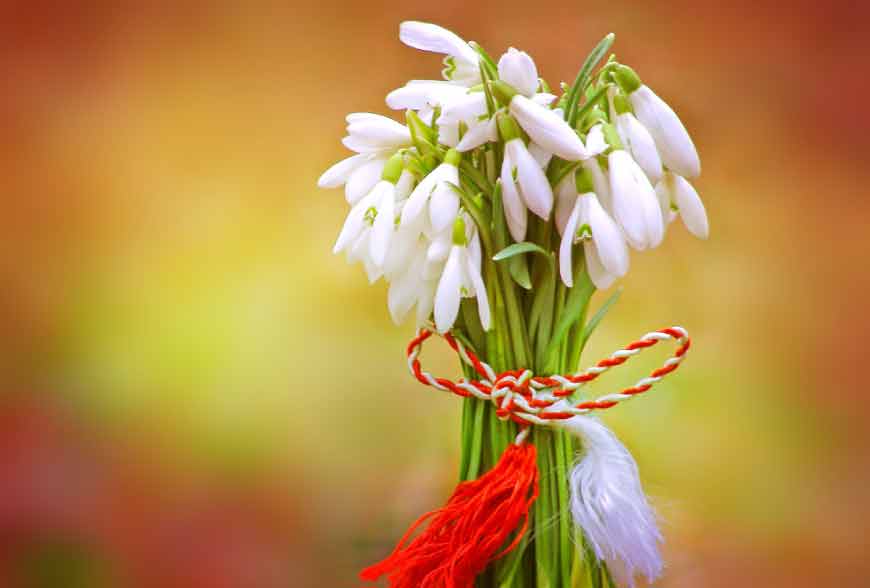 Nestled in the heart of Eastern Europe, Romania is a country with a rich tapestry of traditions and folklore. Among its many customs, the Martisor stands out as a symbol of hope, renewal, and the arrival of spring. As we embark on a journey to discover Romanian traditions, let us delve into the fascinating world of Martisor, exploring its origins, customs, and modern adaptations. Whether you're a traveler seeking unique souvenirs or simply curious about the cultural diversity of the world, this article will guide you through the enchanting Martisor tradition.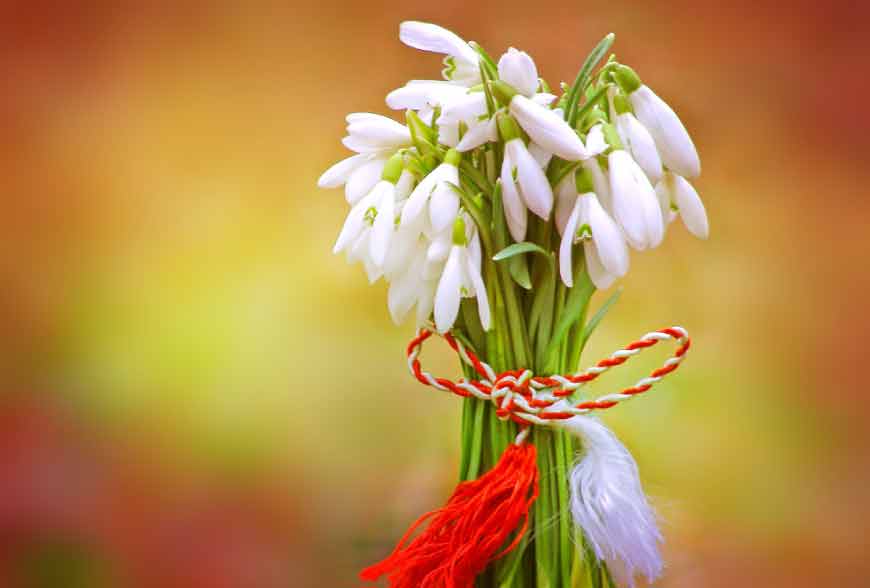 Martisor: A Glimpse into Romanian Culture
The Martisor, pronounced "mart-see-shor," is a red and white decorative thread or string with a small token or trinket attached. This symbolic object is traditionally given to loved ones on March 1st in Romania and Moldova. Its name is derived from "martie," the Romanian word for March, which signifies the beginning of spring. The Martisor is a tangible representation of the hope for a prosperous and joyful year ahead.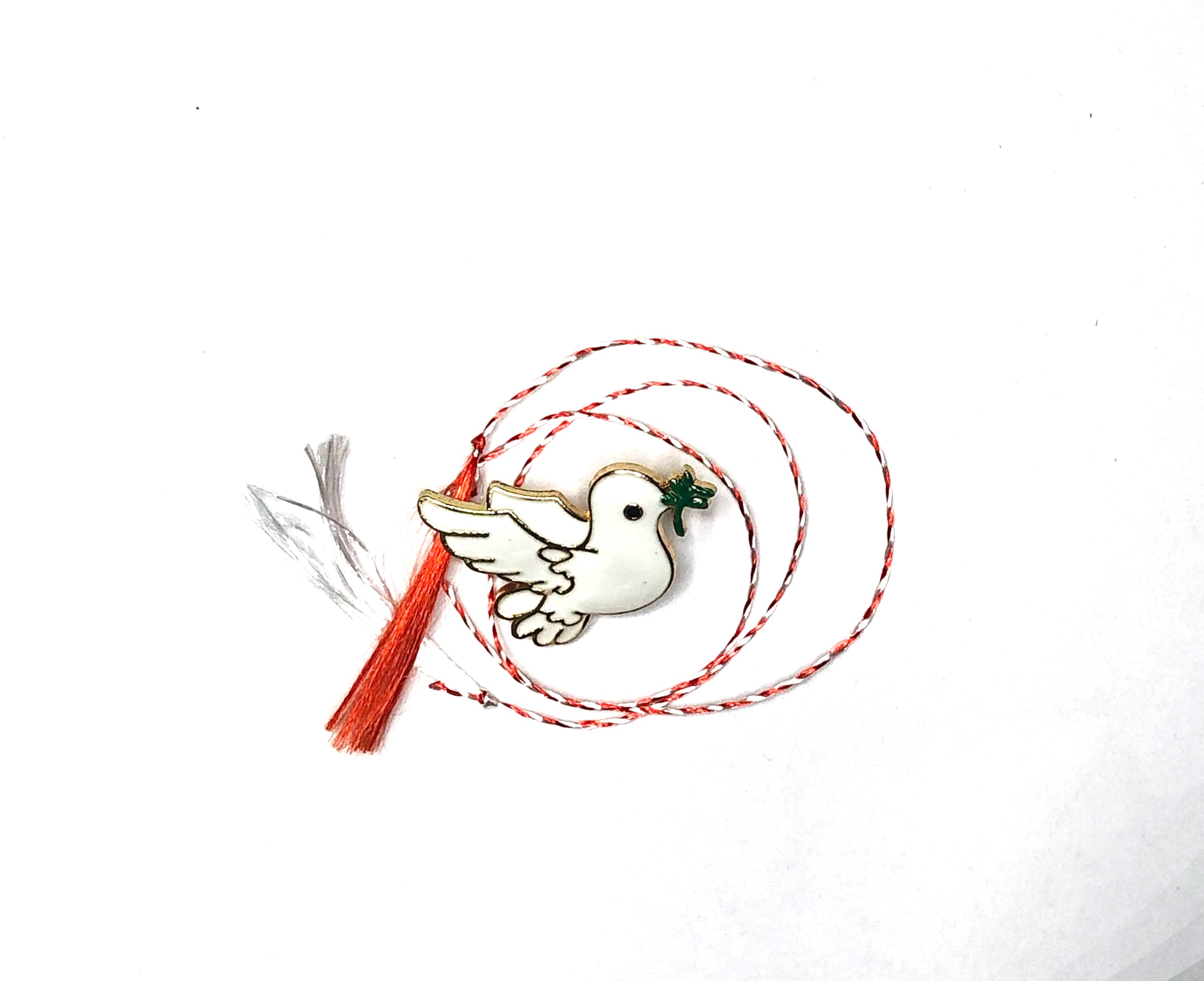 Origins of the Martisor Tradition
Like many age-old traditions, the exact origins of the Martisor remain shrouded in mystery, with several intriguing legends and theories attempting to explain its existence. Here are three popular variations of the Martisor's origins:
Ancient Roman Connection: One theory links the Martisor tradition to ancient Roman times when the New Year began in March, with Martius (March) being the first month of the year in the Roman calendar. The red and white colors of the Martisor could have symbolized the transition from winter to spring, with red representing vitality and white symbolizing purity. Over the centuries, this symbolism evolved into a celebration of renewal and hope.
Legend of Baba Dochia: Another captivating legend tells the story of a mythical character named Baba Dochia, an elderly woman who would test the arrival of spring by changing her attire. According to the legend, she would wear a thick coat made of twelve layers of wool, and as the days grew warmer, she would remove one layer each day. If March 1st arrived and she still had all twelve layers on, it signified that winter was not yet over. In this context, the Martisor might have been a token to protect against the remaining days of cold and hardship, a charm to ensure that spring would prevail.
Tracian and Dacian Origins: Some historians trace the Martisor's roots back to the ancient Thracians and Dacians, the indigenous people of the region that is now modern-day Romania. These cultures had a strong connection to nature, and red and white were considered sacred colors representing life and death. The Martisor, in this theory, would be a continuation of their traditions, symbolizing the cyclical nature of life and the changing seasons.
Regardless of its exact origins, the Martisor has become an integral part of Romanian culture, a cherished tradition that brings people together and symbolizes the hope for a better future.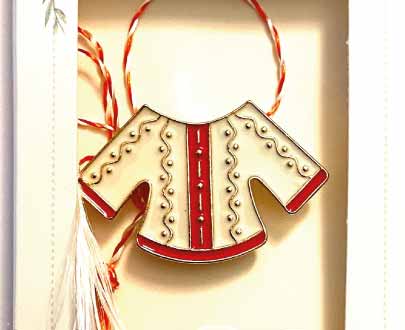 The Significance of Martisor Colors and Designs
Martisors nowadays come in a multitude of colors and designs, each with its own unique meaning and symbolism. While red and white remain the traditional colors, modern Martisors may incorporate additional hues and materials to reflect contemporary tastes and styles. Here are some common Martisor colors and their associated meanings:
Red and White: The classic Martisor colors symbolize life, vitality, and purity. They represent the transition from winter to spring and the hope for a prosperous year ahead.
Gold and Silver: Martisors adorned with gold or silver accents are considered especially valuable and may symbolize wealth, success, and good fortune.
Floral Designs: Martisors featuring flowers, particularly red and white blossoms, evoke the beauty of spring and the renewal of nature.
Animal Motifs: Some Martisors include animal symbols like birds or butterflies, representing the awakening of wildlife as winter recedes.
Traditional Charms: Traditional charms such as horseshoes, four-leaf clovers, and sun motifs are believed to bring luck and protection.
Personalized Martisors: Many people choose to personalize Martisors with initials or names, making them unique gifts for loved ones.
Regardless of the design you choose, the act of giving and receiving a Martisor is a heartfelt gesture that conveys well wishes, love, and hope for the future.
Martisor Customs and Celebrations
The Martisor tradition goes beyond the act of gifting colorful threads; it encompasses a series of customs and celebrations that add depth and meaning to the practice:
Martisor Celebrations: On March 1st, Romanians and Moldovans celebrate Martisor Day with various festivities. These celebrations often include music, dance, traditional food, and the exchange of Martisors among friends, family, and colleagues.
Martisor Fair: In many Romanian cities, Martisor fairs are organized, featuring artisans selling a wide array of Martisors and other traditional crafts. These fairs are vibrant and bustling, offering a glimpse into the heart of Romanian culture.
Tying the Martisor: When receiving a Martisor, it is customary to tie it around the wrist, pin it to clothing, or even attach it to a bag. The Martisor is worn for the entire month of March, and it is believed to protect against illness and misfortune while ushering in a prosperous spring.
Martisor Trees: In some regions of Romania, people create Martisor trees by hanging dozens or even hundreds of Martisors on tree branches. This creates a visually striking display that celebrates the arrival of spring and the collective hope for a fruitful year.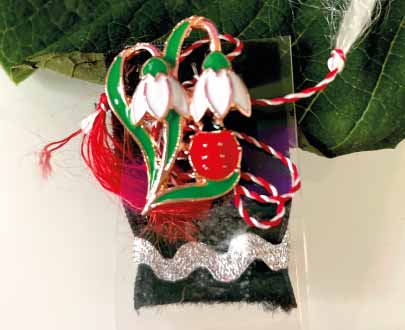 Buying Martisor: Where and How
If you're eager to embrace the Martisor tradition and bring a piece of Romanian culture into your life, there are several ways to purchase Martisors, both in physical stores and online.
Traditional Markets and Shops: Visiting Romania during the month of March provides the perfect opportunity to explore traditional markets and shops where you can find a wide variety of Martisors. Cities like Bucharest, Cluj-Napoca, and Sibiu host bustling markets where local artisans and vendors sell beautifully crafted Martisors, often accompanied by other traditional handicrafts and treats. These physical shops offer a chance to immerse yourself in the cultural ambiance and interact with locals who can share the significance of each Martisor design.
Souvenir Shops and Tourist Destinations: In tourist-centric areas, you'll find souvenir shops that cater to travelers seeking authentic Romanian gifts and keepsakes. These shops often carry Martisors, allowing you to pick up a piece of Romanian culture as a memento of your journey. Be sure to inquire about the Martisor's significance and the stories behind the designs, as the shopkeepers are usually eager to share their knowledge.
Online Marketplaces: In the digital age, buying Martisors online has become increasingly accessible. Websites like Etsy, eBay, and various Romanian e-commerce platforms offer a wide selection of Martisors, often crafted by independent artisans. Shopping online provides the convenience of browsing a vast array of designs and styles from the comfort of your home. Keep in mind that when purchasing online, it's essential to verify the credibility of the seller and read customer reviews to ensure the authenticity and quality of the Martisors.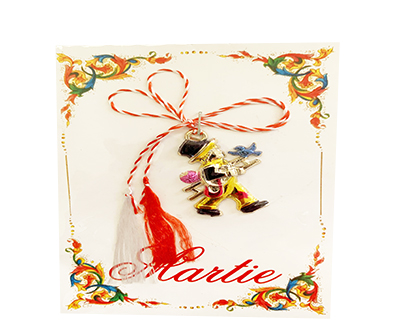 Modern Adaptations and Global Appeal
The Romanian Martisor is a traditional symbol of the arrival of spring in Romania, Moldova, and parts of Bulgaria. It consists of a small piece of string, usually red and white, with a charm or decoration attached to it. People wear or exchange Martisors on March 1st, and they are typically worn until the end of the month or until the first signs of spring appear. Over time, the Martisor tradition has evolved and adapted to modern contexts while still maintaining its cultural significance and global appeal. Here are some key aspects of its modern adaptations and global appeal:
Cultural Preservation: The Martisor tradition is an essential part of Romanian and Moldovan culture, representing the transition from winter to spring and symbolizing good luck, health, and protection. Despite modernization and globalization, many people in these countries continue to uphold and cherish this tradition as a way of preserving their cultural heritage.
Artistic Expression: The charms or decorations on Martisors have become more diverse and creative over the years. Artisans and artists create unique and intricate designs, often incorporating traditional symbols, folklore elements, or personal touches. This has led to a resurgence of interest in traditional crafts and artistry.
Commercialization: The commercial aspect of Martisors has grown significantly. You can now find Martisors for sale in various forms, from simple ones made of thread and plastic charms to more elaborate and expensive versions made of precious metals and gemstones. This has created economic opportunities for artisans and businesses.
Globalization: The concept of Martisor has spread beyond Romania and Moldova due to the Romanian diaspora and globalization. Romanians living abroad often share this tradition with their local communities, helping to raise awareness of Romanian culture. Additionally, tourists who visit Romania may purchase Martisors as souvenirs.
Online Presence: The internet and social media have played a crucial role in promoting Martisors globally. People can learn about the tradition, its significance, and how to make their Martisor through online platforms. Social media also allows individuals to share their Martisor creations with a global audience, further promoting the tradition.
Charitable Initiatives: Some organizations and individuals use Martisors as a means to support charitable causes. They sell Martisors, and the proceeds go to various charitable projects or foundations, demonstrating how tradition can be combined with philanthropy to create a positive impact.
Personal Expression: While the traditional colors of red and white are still prevalent, some modern Martisors incorporate a broader spectrum of colors and materials, allowing for more personalization and creative expression. This appeals to individuals who want to incorporate their unique style while still honoring the tradition.
In summary, the Martisor tradition has adapted to modern times by embracing creativity, commercialization, and globalization while maintaining its cultural significance. Its global appeal has grown through the efforts of the Romanian diaspora, online presence, and charitable initiatives, making it a symbol of both cultural heritage and the arrival of spring that resonates with people around the world.
We hope you enjoyed this article about Romanian traditions. Visit Romania with a guide with our special tours. To learn more about the tour
Click here
.