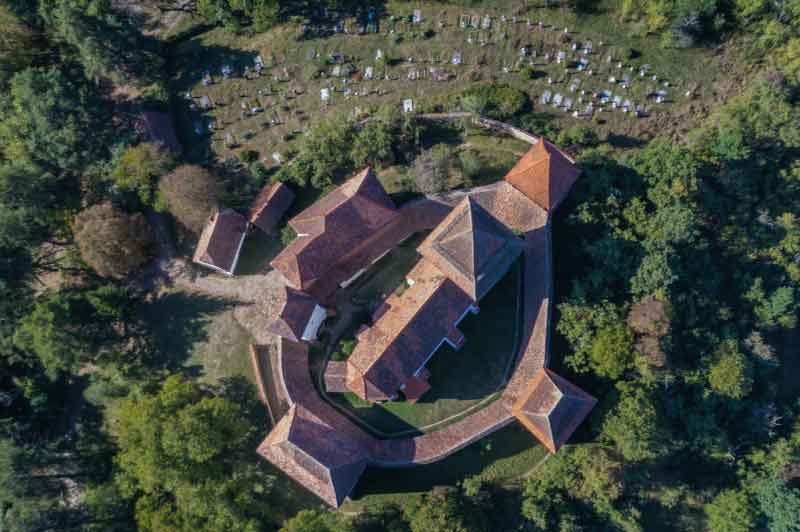 Nestled in the heart of Transylvania, the enchanting village of Viscri beckons travelers to step back in time and discover a world that seems untouched by the modern age. With its cobbled streets, centuries-old architecture, and a sense of serenity that permeates the air, the village is a hidden gem that captivates the hearts of all who visit. In this article, we embark on a journey to explore the village, its rich history, and the myriad of tourist attractions that make it a must-visit destination.
Venture into the Heart of Transylvania visiting the village ofvViscri Romania
A Glimpse into History
Viscri's history dates back to the 12th century when it was founded by Saxon settlers. The village is emblematic of the Saxon influence in Transylvania, and its roots are deeply intertwined with the region's complex history. One of the most iconic landmarks in the village is the fortified church, a testament to the village's tumultuous past.
Viscri Fortified Church: A UNESCO World Heritage Site
The Viscri fortified church, perched prominently on a hill, is a visual masterpiece that has stood the test of time. Originally constructed in the 12th century, it was fortified in the 15th century as a defensive measure against invasions. Its thick stone walls, watchtowers, and imposing presence showcase the architectural ingenuity of the time.
The church's interior is equally awe-inspiring. Step inside, and you'll be greeted by centuries-old frescoes that adorn the walls, telling stories of faith and resilience. The church also houses a small museum, offering insights into the history and culture of the village.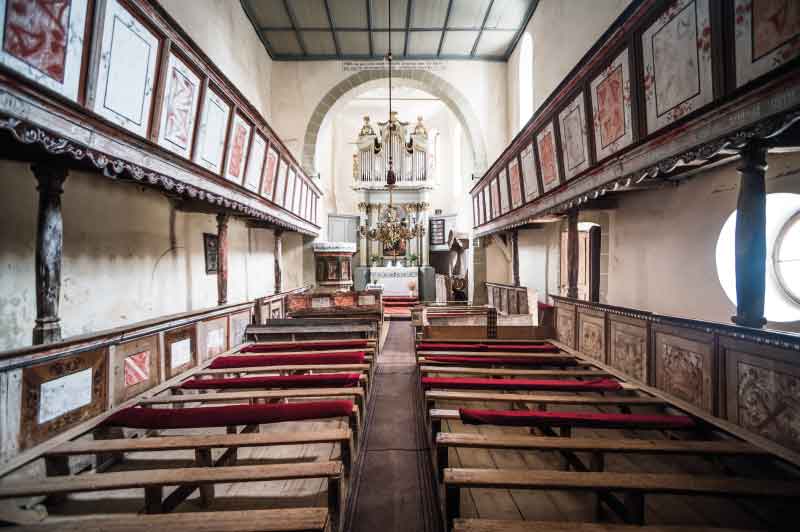 Here are some key details about the fortified church in Viscri:
History: The church in Viscri, also known as the Viscri Fortified Church or the Fortified Church of Saint Mary, has a history dating back to the 12th century. It was initially constructed as a Romanesque basilica and was later fortified in the 15th century during a period of increased threats from invading forces, primarily the Ottoman Turks.
Architecture: The Viscri Fortified Church is a prime example of Transylvanian Saxon architecture. It combines elements of Romanesque and Gothic styles, with its thick stone walls, defensive towers, and a massive gate. The church's bell tower stands out, and the interior features a simple yet charming design, with wooden pews and a beautiful altar.
Fortifications: The church's fortifications were designed to protect the local population during times of danger. The walls are made of stone and are several meters thick, providing a strong defense against attacks. There are also watchtowers and defensive walkways along the walls that allowed defenders to keep a lookout for approaching threats.
UNESCO World Heritage Site: The fortified church in Viscri, along with several other similar churches in Transylvania, is listed as a UNESCO World Heritage Site. These churches are recognized for their historical and architectural significance, representing a unique blend of Germanic and Romanian cultures in the region.
Cultural Heritage: Today, the Viscri Fortified Church serves as both a religious site and a cultural heritage attraction. It is a popular destination for tourists interested in exploring the history and architecture of Transylvania. Visitors can tour the church, climb the tower for panoramic views of the surrounding area, and learn about the rich history of the region.
Preservation Efforts: Efforts have been made to preserve and restore the church and its fortifications to ensure their continued survival. The local community, along with international organizations and donors, has played a crucial role in these restoration efforts.
Viscri, in particular, gained international recognition due to Prince Charles of Wales, who has been involved in the preservation and restoration of the village and its fortified church. His involvement has helped draw attention to the cultural and historical significance of the area.
In summary, the fortified church in Viscri, Romania, is a historically and architecturally significant monument that represents the rich cultural heritage of Transylvania. It serves as a testament to the resilience and ingenuity of the Saxons who settled in the region and is a must-visit destination for travelers interested in exploring the history and culture of Romania.
A Step Back in Time
As you wander through the village's streets, you'll find yourself transported to a bygone era. The village is a living museum, with its well-preserved traditional Saxon houses, many of which are now guesthouses or museums. The whitewashed exteriors and terra cotta-tiled roofs add to the village's timeless charm.
Traditional Saxon Houses
Viscri's traditional Saxon houses are a testament to the craftsmanship of the era. These quaint, colorful houses feature wooden gates adorned with intricate carvings, traditional furnishings, and cozy interiors that transport visitors to a simpler time. Many of these houses have been lovingly restored and now serve as guesthouses, offering travelers a chance to experience authentic village life.
Experience the Village Life
Visiting Viscri is not just about sightseeing; it's about immersing yourself in the local way of life. The village is home to a warm and welcoming community, and interacting with the locals is an essential part of the experience.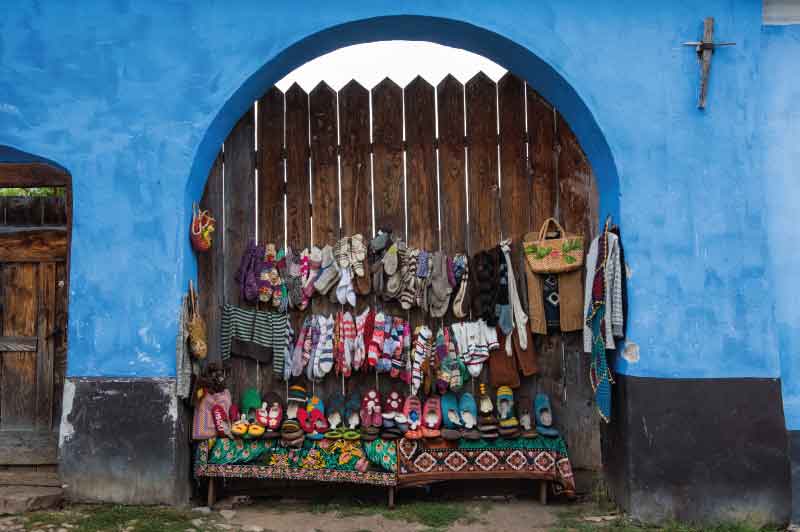 Traditional Crafts and Workshops
One of the highlights of a visit is the opportunity to witness traditional crafts in action. Local artisans continue to practice age-old trades, such as blacksmithing, pottery, and weaving. Visitors can often watch these craftspeople at work and even purchase handmade souvenirs to take home as a memento of their journey.
Delicious Local Cuisine
No visit to Viscri is complete without savoring the delicious local cuisine. The village is known for its hearty and flavorful dishes, often prepared with fresh, locally sourced ingredients. Traditional dishes like "sarmale" (cabbage rolls stuffed with meat and rice) and "mămăligă" (cornmeal porridge) are staples of Romanian cuisine and are a must-try when visiting.
Explore the Surrounding Nature
Viscri is not just about history and culture; it also offers a pristine natural landscape waiting to be explored. The village is surrounded by rolling hills, lush forests, and idyllic meadows, making it a haven for nature enthusiasts.
Hiking and Biking Trails
The picturesque countryside surrounding the village is crisscrossed with hiking and biking trails. Whether you're a leisurely stroller or an avid hiker, there's a trail for you. These trails provide breathtaking views of the Transylvanian landscape, and you may even stumble upon hidden gems like wildflowers and serene ponds along the way.
Birdwatching and Wildlife
The village's rural setting makes it an ideal destination for birdwatchers and wildlife enthusiasts. The region is home to a variety of bird species, and you can spot them in their natural habitat. Keep your eyes peeled for the vibrant plumage of woodpeckers and the graceful flight of owls.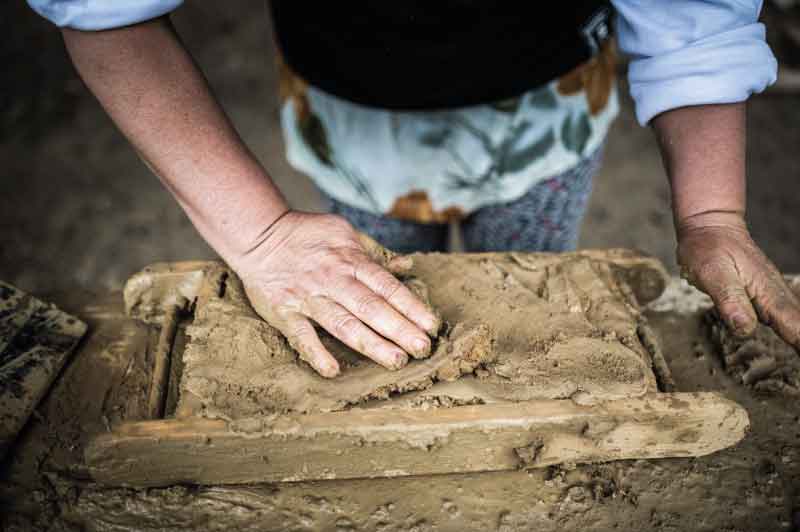 Cultural Festivals and Events
Throughout the year, the village comes alive with a calendar of cultural festivals and events that celebrate the village's rich heritage. These events offer visitors a chance to partake in traditional festivities and gain a deeper understanding of local customs.
Viscri Medieval Festival
One of the most popular events is the Viscri Medieval Festival, which transports visitors to the Middle Ages. The village streets are filled with costumed reenactors, artisans showcasing their crafts, and medieval games and performances. It's a unique opportunity to experience history firsthand.
Practical Tips for Visiting Viscri
Before you embark on your journey to Viscri, here are some practical tips to ensure a smooth and enjoyable visit:
Accommodation: Consider staying in one of Viscri's traditional guesthouses for an authentic experience. Make reservations in advance, especially during the peak tourist season.
Local Currency: The local currency is the Romanian Leu (RON). While some places may accept Euros, it's advisable to carry some local currency for smaller transactions.
Language: Romanian is the official language, but English and German are also spoken in tourist areas.
Local Etiquette: Respect the local customs and traditions. When entering churches or monasteries, dress modestly, covering your shoulders and knees.
Weather: Check the weather before your trip and pack accordingly. Summers can be warm, while winters can be quite cold.
Transportation: Viscri is accessible by car, and there is also limited public transportation. It's recommended to have your own means of transportation to explore the surrounding areas.
In Conclusion
Viscri, with its timeless beauty and rich history, is a destination that captures the essence of Transylvania. Whether you're drawn to its medieval architecture, the warmth of its people, or the tranquility of its natural surroundings, Viscri offers a unique and immersive travel experience. As you walk through its streets and explore its hidden corners, you'll find yourself not just visiting a place but stepping into a living piece of history.
So, if you're seeking an escape from the hustle and bustle of modern life and a journey into the heart of Transylvania's past, make Viscri your next travel destination. This enchanting village promises to leave an indelible mark on your heart, making it a place you'll long to return to again and again.