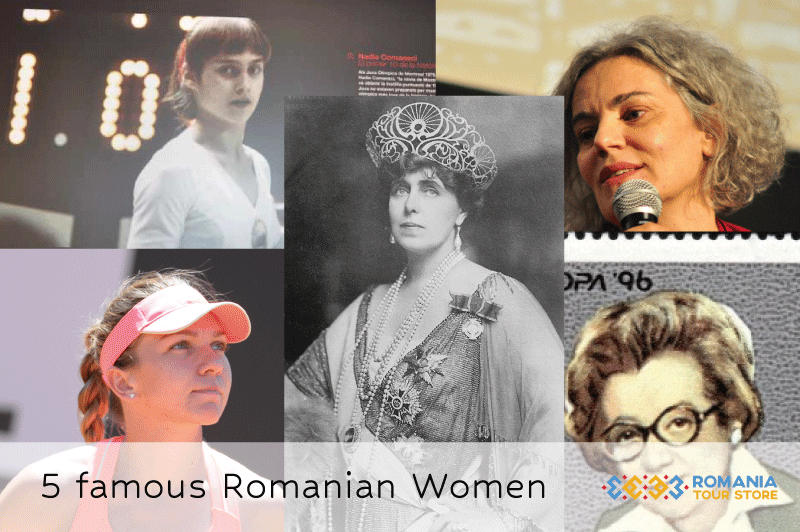 There are a lot of famous romanian women, who graved their print in history. Some of them are know by a large part of the world, some others got forgotten, or never knew the fame they deserved.
Let's describe you a few of those famous Romanian women, and how you can still see their print into romanian society.
Romanian women famous all around the world
Queen Mary of Romania
Queen Mary of Romania, born as Princess Marie of Edinburgh and later known as Queen Marie of Romania, was a prominent European royal figure who played a significant role in the history of Romania during the late 19th and early 20th centuries. Here is a brief biography of Queen Mary of Romania:
Princess Marie of Edinburgh was born on October 29, 1875, in Kent, England. She was the daughter of Prince Alfred, Duke of Edinburgh, and Grand Duchess Maria Alexandrovna of Russia.
In 1893, Princess Marie married Crown Prince Ferdinand of Romania, who later became King Ferdinand I of Romania. This union marked the beginning of her life in Romania.
She became the Queen Consort of Romania when her husband, Ferdinand, ascended to the throne in 1914 following the death of his uncle, King Carol I.
Queen Marie played a crucial role during World War I when Romania entered the conflict on the side of the Allies in 1916. She was known for her efforts to boost the morale of the Romanian troops and for her involvement in relief work during the war. She was influential in Romanian politics and diplomacy. She was known for her intelligence, charm, and diplomatic skills, which she used to advance Romanian interests during and after World War I.
After the end of World War I and the dissolution of the Austro-Hungarian Empire, the romanian queen played a pivotal role in advocating for the unification of Transylvania, Bukovina, and Bessarabia with the Kingdom of Romania.
Queen Marie and King Ferdinand had six children. After her husband's death in 1927, Queen Marie continued to be an important figure in Romania as the Queen Mother, providing guidance and support to her son, King Carol II, and her grandson, King Michael I.
Queen Marie was also known for her literary talents. She wrote several books, including memoirs and novels, which provided insight into her life and the events of her time.
Queen Marie of Romania passed away on July 18, 1938, in Sinaia, Romania, at the age of 62.
Queen Marie of Romania left a lasting legacy as a beloved and influential figure in Romanian history. Her efforts during World War I, her role in the unification of Romanian territories, and her literary contributions continue to be remembered and celebrated in Romania and beyond. People rememeber her as one of the strongest romanian women.
Nadia Comaneci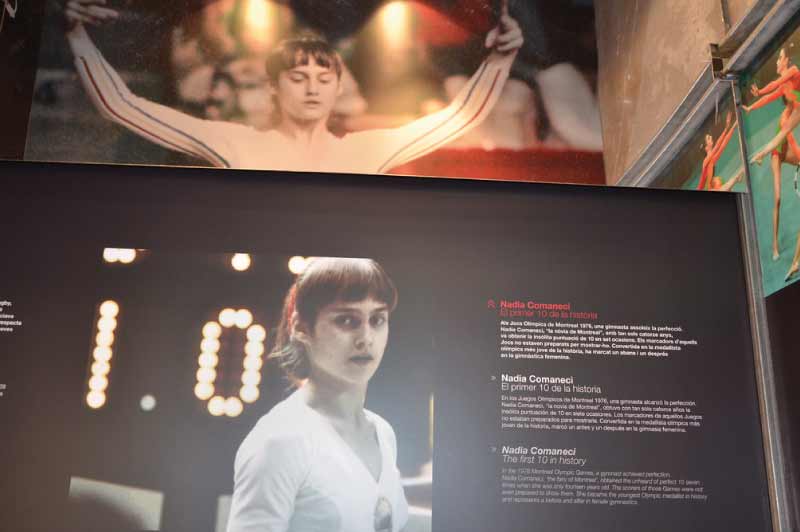 Nadia Comăneci is a former Romanian gymnast who became a global sensation in the world of gymnastics during the 1976 Summer Olympics. She is definitely one of the most famous romanian women around the globe.
Nadia Elena Comăneci was born on November 12, 1961, in Gheorgheni, Romania. She showed an early interest in gymnastics and began training at a young age. Nadia Comăneci started her competitive gymnastics career under the guidance of her coaches Bela and Marta Károlyi. She quickly rose through the ranks and made her international debut in 1975.
Nadia Comăneci gained worldwide fame at the 1976 Summer Olympics in Montreal, Canada. At the age of 14, she became the first gymnast in Olympic history to achieve a perfect 10.0 score, not once but seven times during the competition. She won three gold medals, one silver, and one bronze at the Montreal Olympics. Her performance on the uneven bars, where she received the first-ever perfect 10.0 score, is particularly iconic. The scoreboard initially displayed "1.00" because it couldn't display a perfect 10, leading to a memorable moment in Olympic history.
After her Olympic triumph, Nadia continued to excel in gymnastics. She won numerous World Championships and European Championships medals, solidifying her status as one of the greatest gymnasts of all time.
In 1989, Nadia Comăneci defected from Romania to the United States during a tour with other Romanian gymnasts. She sought asylum and eventually became a U.S. citizen.
After retiring from competitive gymnastics, Nadia Comăneci remained involved in the sport. She worked as a coach, judge, and commentator, contributing to the promotion and development of gymnastics.
Nadia Comăneci married the american gymnast Bart Conner in 1996, and they have a son together. The couple is closely associated with the sport of gymnastics and has been involved in various gymnastics-related ventures.
Nadia Comăneci's groundbreaking achievements in gymnastics, particularly her perfect 10.0 scores at the 1976 Olympics, revolutionized the sport and made her an enduring symbol of excellence and inspiration for gymnasts worldwide. She remains one of the most iconic figures in gymnastics history.
Maia Morgenstern
Maia Morgenstern is a Romanian actress known for her versatile talent and her portrayal of iconic roles in both Romanian and international cinema. Here is a brief biography of Maia Morgenstern:
Maia Emilia Ninel Morgenstern was born on May 1, 1962, in Bucharest, Romania. She grew up in a Jewish family and was the daughter of a Romanian father and a Polish-Jewish mother. She studied acting at the National University of Theatre and Film "I.L. Caragiale" in Bucharest. She made her acting debut in the early 1980s and quickly gained recognition for her talent and versatility.
Maia Morgenstern became internationally renowned for her role as Mary, the mother of Jesus, in Mel Gibson's 2004 film "The Passion of the Christ." Her portrayal of the Virgin Mary received critical acclaim and brought her widespread recognition. In addition to her international work, Maia Morgenstern has had a prolific career in Romanian cinema. She has appeared in numerous Romanian films and television productions, earning accolades for her performances.
Morgenstern is also a respected theater actress and has performed in various theatrical productions in Romania. She is known for her stage presence and ability to bring depth to her characters. Throughout her career, Maia Morgenstern has received several awards and nominations for her acting, both in Romania and internationally. Her portrayal of Mary in "The Passion of the Christ" earned her recognition from various film festivals and organizations.
Maia Morgenstern is known for being a private individual and tends to keep her personal life away from the public eye. She is married and has two children.
Morgenstern has been involved in cultural and philanthropic activities in Romania and has supported various causes related to the arts and social issues.
Maia Morgenstern's career has been marked by her ability to bring depth and authenticity to the characters she portrays, making her one of Romania's most respected and internationally recognized actresses. Her role as the Virgin Mary in "The Passion of the Christ" remains one of her most iconic and memorable performances.
Simona Halep
Simona Halep is a professional tennis player. This romanian women has established herself as one of the top players in the world.
Simona Halep was born on September 27, 1991, in Constanța, Romania. She began playing tennis at a young age and showed immense talent and determination from the start.
Halep turned professional in 2006, and she quickly rose through the ranks of junior and lower-level tournaments. Her breakthrough on the WTA Tour came in 2013 when she won her first six WTA titles in a single season. This remarkable achievement propelled her into the top 10 of the Women's Tennis Association (WTA) rankings.
Simona Halep's Grand Slam success began with a runner-up finish at the 2014 French Open. She reached the final at the French Open again in 2017 and 2018, but it was in 2018 that she claimed her first Grand Slam title, defeating Sloane Stephens to win the French Open.
Halep reached the pinnacle of women's tennis by becoming the World No. 1-ranked player in October 2017, a position she held for multiple weeks during her career.
In 2019, Simona Halep won her second Grand Slam title by triumphing at Wimbledon. She played an outstanding final match against Serena Williams, securing her place among the tennis elite.
Halep is known for her defensive skills, speed, and versatility on the court. She is capable of playing on various surfaces and has consistently remained one of the top-ranked players in the world. Simona Halep represented Romania at the Summer Olympics and won a bronze medal in women's singles tennis at the 2020 Tokyo Olympics.
Halep tends to keep her personal life private. She married businessman Toni Iuruc in September 2021 in a private ceremony.
Her tennis career has been characterized by her dedication, hard work, and impressive on-court skills. She has earned the respect of the tennis world and remains one of the most accomplished and beloved athletes in Romania's history.
Ana Aslan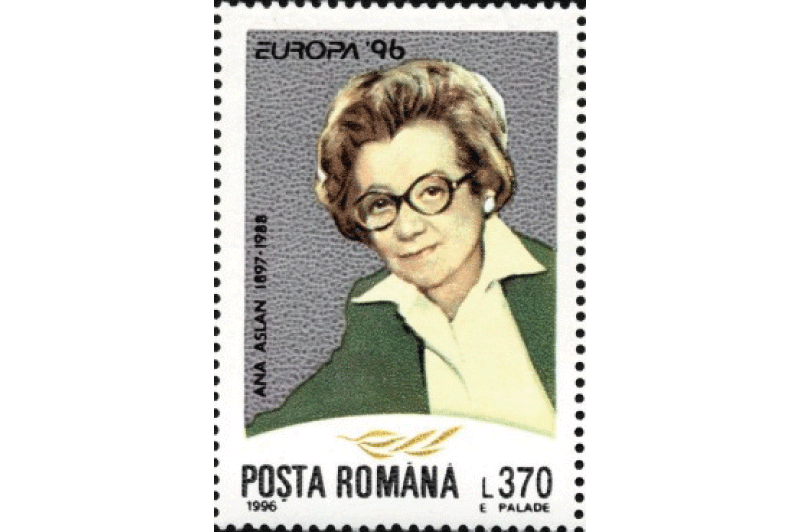 Ana Aslan was a Romanian woman, biologist and physician, known for her pioneering work in gerontology and the development of Gerovital H3, a controversial anti-aging treatment. Here is a brief biography of Ana Aslan:
Ana Aslan was born on January 1, 1897, in Brăila, Romania. She showed an early interest in science and medicine. She attended the University of Bucharest, where she studied medicine and later pursued postgraduate studies in Paris.
Aslan became a physician and worked in various hospitals in Romania. She specialized in cardiology and internal medicine. In the 1950s, Ana Aslan turned her attention to the field of gerontology, the study of aging and the problems of the elderly. She established the Institute of Geriatrics in Bucharest, Romania, in 1952.
Gerovital H3: Aslan is best known for her development of Gerovital H3, a compound that she claimed could slow down the aging process and improve the overall health of older individuals. Gerovital H3 was based on procaine, a local anesthetic, and other substances. However, its effectiveness and safety have been the subject of debate and controversy. Nowadays, romanian women prefer the gerovital products to many world wide brands.
Ana Aslan's work on Gerovital H3 gained international attention, and the treatment was used by various celebrities and public figures. Aslan herself treated several prominent individuals.
While Gerovital H3 received widespread attention, its efficacy and scientific basis were disputed by many in the medical community. Some critics regarded it as a form of pseudoscience or quackery.
Ana Aslan continued her research and work in gerontology throughout her life, receiving numerous awards and honors for her contributions. Ana Aslan's legacy is mixed, with some viewing her as a pioneering figure in the field of anti-aging medicine and others considering her work controversial and unproven. The use of Gerovital H3 remains a subject of debate.
Ana Aslan passed away on May 20, 1988, in Bucharest, Romania, at the age of 91.
Despite the controversy surrounding Gerovital H3, Ana Aslan made significant contributions to the study of aging and the care of elderly individuals. Her work opened up discussions about aging and longevity, though it continues to be a subject of debate within the medical and scientific communities.
We hope you learned a lot about these 4 famous romanian women. Please take a look at our Romania tours and check out our recommendations for activities in Romania!
You can find us in the travel Guide by Lonely planet, in Kayak travel guide, and there are many tours and comments about us on Trip advisor as well.