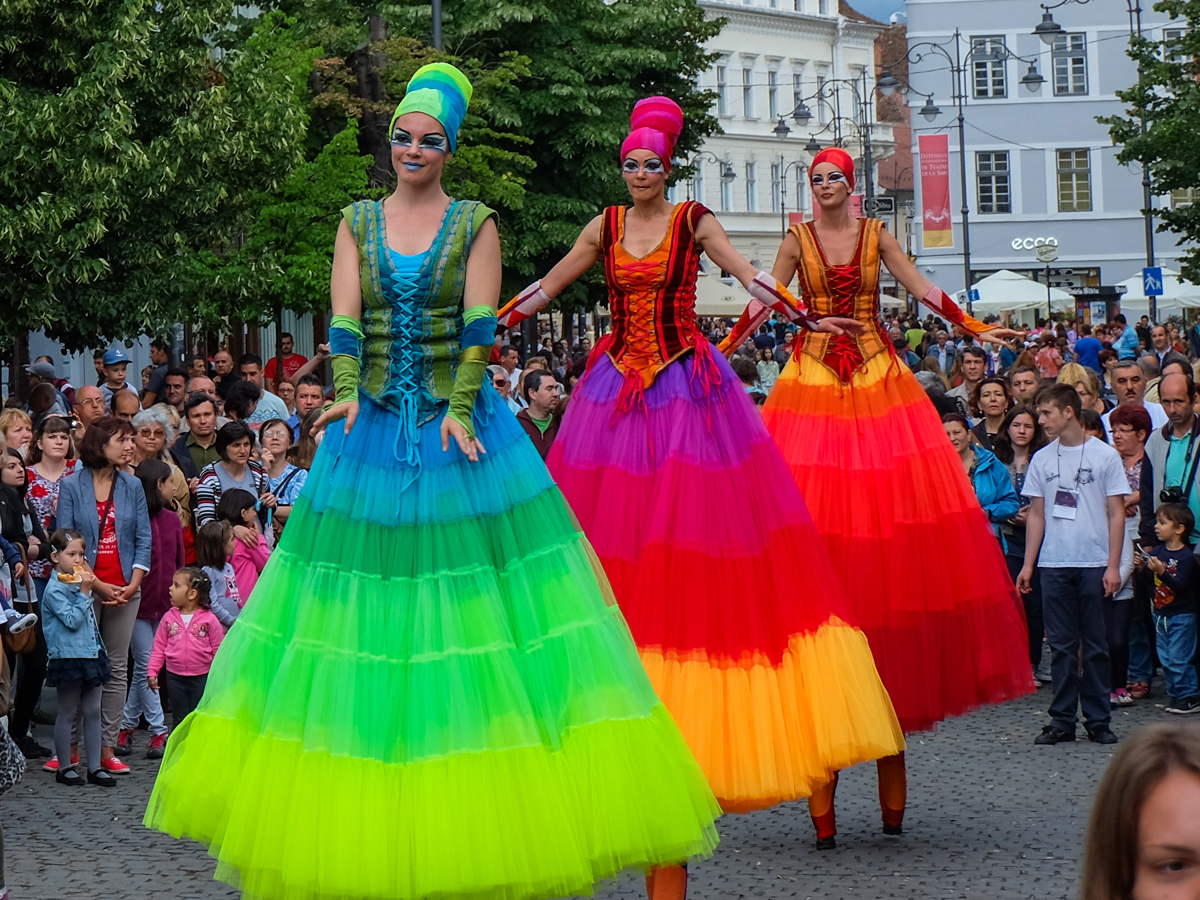 Transylvania was not only once considered one of the most beautiful destinations in Romania. It is marked by many annueal festivals.
Each region has its own charm, there's no denying in that, Transylvania has gained the hearts of many tourists who have chosen to visit it. Not only because of the beautiful cities and towns such as Brasov, Sibiu, Cluj – Napoca, Sighisoara or Targu Mures, that have a well – preserved medieval architecture, but also because of the Romanian villages.
Discover annual festivals and events in Transylvania
Many villages in this region preserve the culture and traditions of Saxon who lived here for hundreds of years, which created in interesting mixture of cultures and a unique identity for the respective villages. A vacation in the Transylvanian villages is always relaxing and there are many beautiful places that you can visit, but throughout the year, local events gather the entire community to celebrate and revive old traditions. Therefore, here are some of the most important events in Transylvania throughout the year, so you know which ones you can attend during your holiday in Transylvania. Some are folklore – oriented, while other might be quite surprising.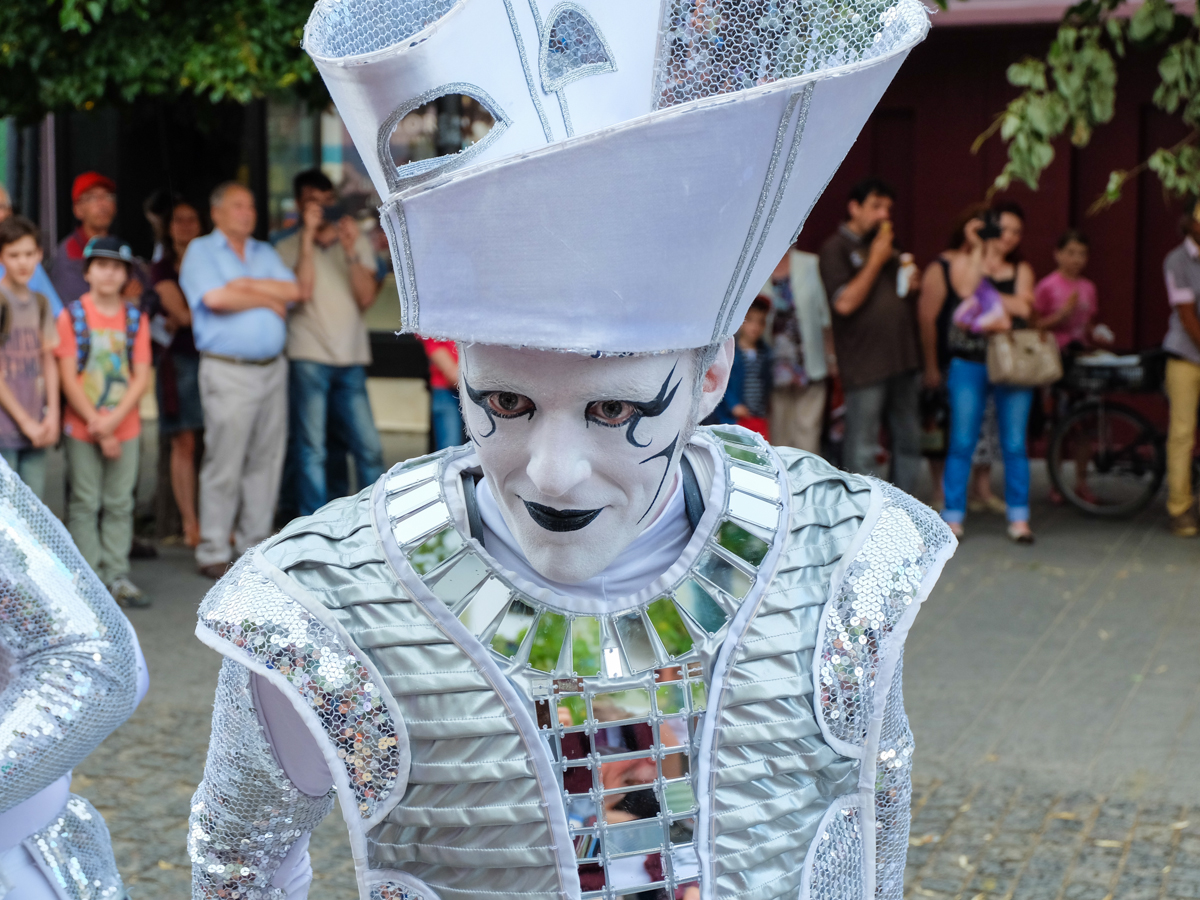 Lads of Brasov (Sărbătoarea junilor)
This traditional celebration takes place in Brasov on the first day of the Orthodox Easter. The celebration lasts for the entire Easter week and one of the highlights is that the Lads, wearing colorful traditional clothing descend on horseback organized in 7 groups, across the entire city.
Transylvania International Film Festival
The film festival is held usually around the month of June, with events taking place in Cluj – Napoca and in Sibiu. Workshops, seminars, film projections, concerts and parties are spread throughout a week.
International Theatre Festival in Sibiu
This festival is one of the most important annual festivals of performing arts in Romania and the third most important in the world, when it comes to theatre. For approximately one week in June, the festivals' agenda is rich in street performances, theatre, dance, circus performances, music, exhibitions, book launches and moore. It's an event that takes over the entire city (at least it feels like it),  so you shouldn't miss it.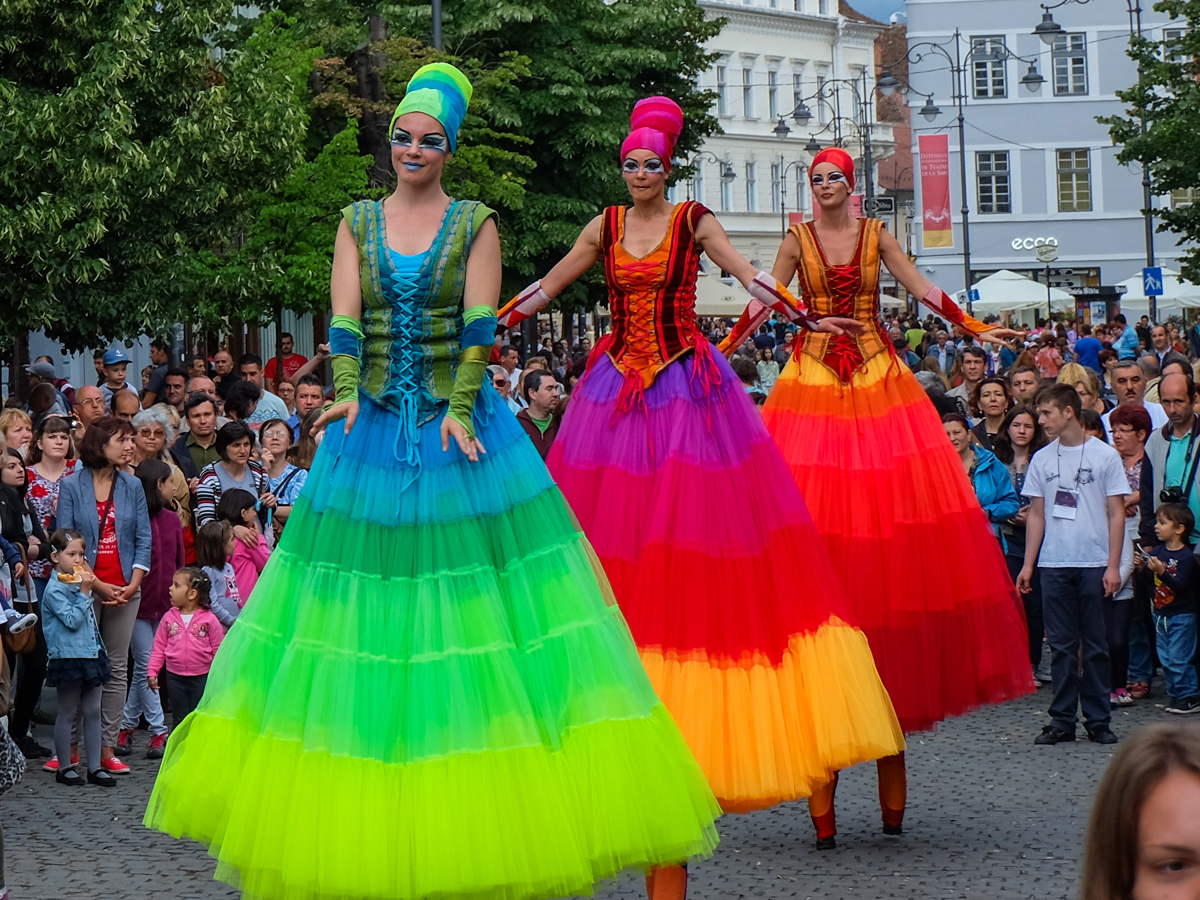 Full Moon Festival in Biertan
Biertan is one of the most beautiful Saxon villages in Transylvania, and since a couple of years now, it's hosting a very interesting horror film festival during the summer, either in July or in August. Open – air film projections of classic horor movies and new ones, workshops and other street performances take place in the most suitable setting of this medieval village.
Sighisoara Medieval Festival
Sighisoara is not only on UNESCO's World Heritage list, but it's also one of the most well – preserved medieval towns in the worl. Therefore, it shouldn't come as a surprise that each summer, a colorful medieval festival attracts many tourists from all over the country and even from all over the world.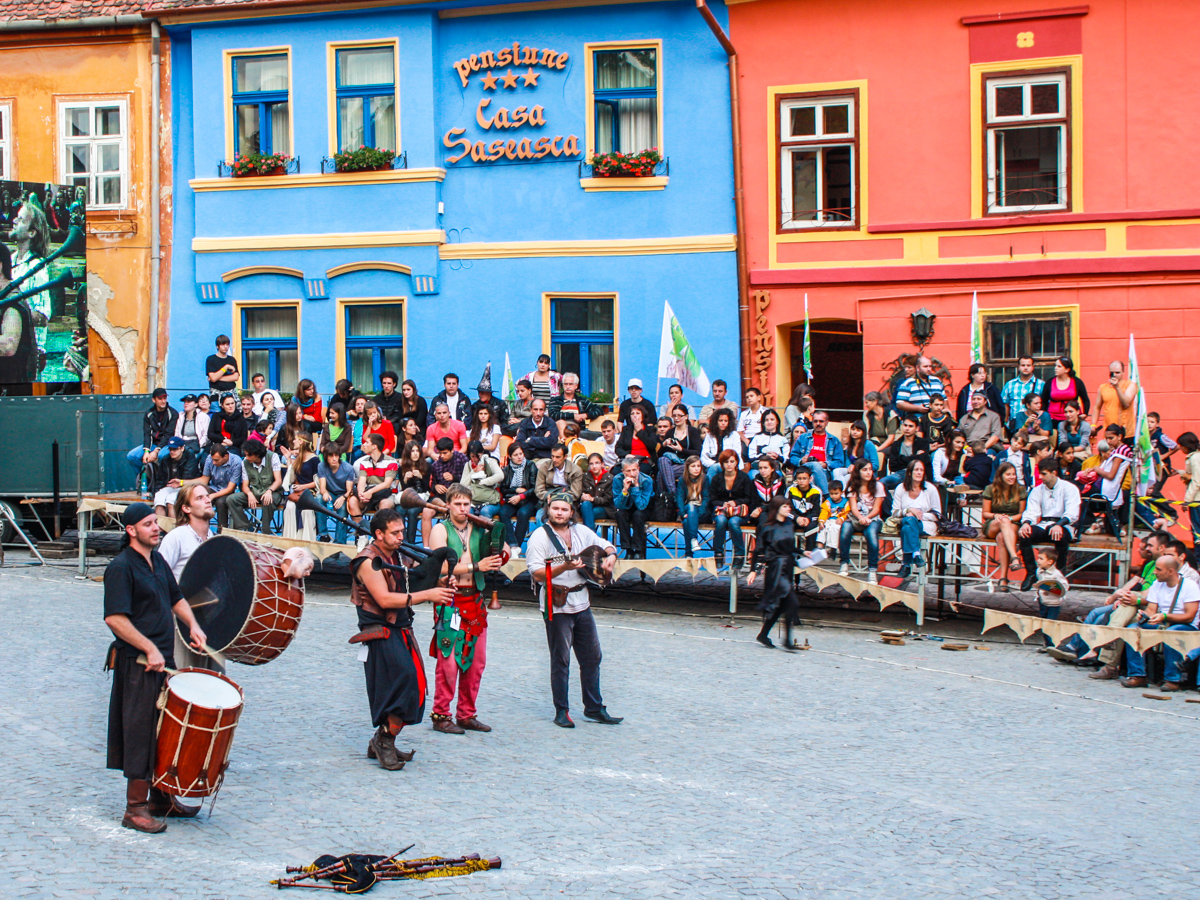 ARTmania Festival in Sibiu
Dedicated to the fans of rock music, this open – air festival is known for exciting live perfromances from various artists of the genre, but also for visual art exhibitions, workshops and film screenings. It usually takes place during the month og July, for an entire weekend.
The Long Way to the Merry Cemetery
This festival takes place each year in Sapanta, the home of the famous Merry Cemetery. The festival incorporates culture, music and traditional games, each year for a week during the month of August. Also in the Maramures county, another festival, dedicated to traditional wear and costumes aimes to preserve and share the love for local costumes with locals and tourists. Folklore music, traditional dances and games are also part of this celebration.
The Medieval Festival Transylvanian Fortresses
This festival, dedicated to all the medieval Transylvanian fortresses in the region takes place in Sibiu. The city is turned each year into a medieval town for a weekend in August and visitors have the chance to see how daily life was like during the Middle Ages. Medieval knights, warriors and craftsmen from different cultures all gather for this special occasion.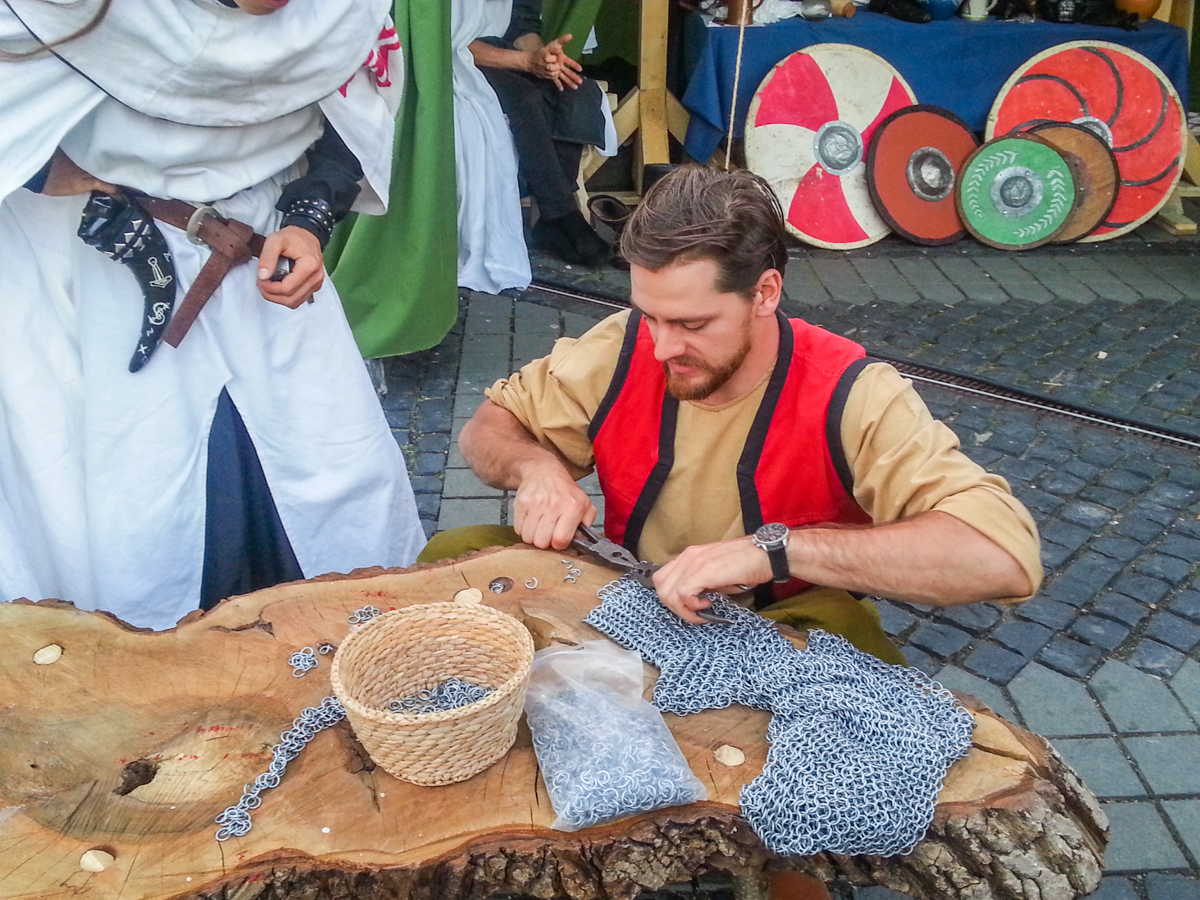 Oktoberfest in Brasov
The traditional German festival was also adapted in various Romanian cities, but the most well – known one takes place in Brasov. It's an opportunity to enjoy Romanian and German music, taste some delicious traditional dishes and, of course, enjoy various beer assortments.
Sibiu Lights and more
Over the last years, another holiday – themed festival has gained its place in the cultural agenda of Sibiu. Thousands of lights create a fairytale location and illuminate the entire Nicolae Balcescu street, right next to the city square (Piata Mare).
Other festivals and events
Blues and jazz fans have the opportunity to attend various concerts during the Sighisoara Blues Festival in March, or for the Jazz Festival in Sibiu (in May).
Folklore enthusiasts can attend various traditional festivals in Transylvanian villages, such as the ones in Boita, Sibiu county (in May), Sadu (in June), Gura Raului, Avrig, Jina or Saliste.
Other imporant festivals include the Airfield Festival in Cisnadie, the Cabbage Festival in Mosna, the Saxons Festival in Saschiz, the Transylvania Gastronomy Festival in Sighisoara and Brasov, the Cheese and Brandy Festival in Rasinari, the Harvest Festival in Sibiu, the Bran Annual Cheese and Cured Mutton Festival, the ASTRA International Film Festival in Sibiu and many more.
If you plan your next trip to Transylvania, it's quite possible to find a festival or another event that you can attend, which only adds to the entertainment value of your vacation. Book one of our Romania tours in Transylvania, and we'll help you create an itinerary to your liking.