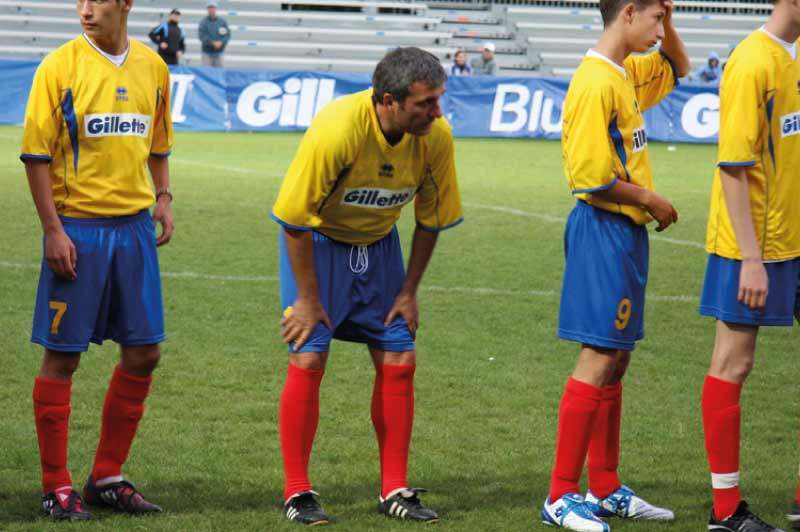 Gheorghe Hagi, often referred to as "The Maradona of the Carpathians," is a name that resonates deeply within the world of football. A legendary figure in Romanian and global football history, Hagi's remarkable career and enduring impact on the sport continue to inspire generations of football enthusiasts. In this comprehensive exploration, we will delve into the life and career of Gheorghe Hagi, tracing his journey from humble beginnings in Romania to his status as one of football's greatest midfield maestros.
Who was gheorghe Hagi ?
Early Life and Football Beginnings
Gheorghe Hagi was born on February 5, 1965, in the small Romanian town of Săcele. From a young age, it was evident that he possessed an innate talent for football. His father, Niculae Hagi, was a former professional football player, and he introduced his son to the game.
Youth Career and Rapid Development
Hagi began his youth career with Farul Constanța, a local club, where he showcased his extraordinary dribbling skills and vision on the pitch. His remarkable talent did not go unnoticed, and he was soon recruited by FC Sportul Studențesc in the capital city of Bucharest.
Hagi's Domestic Club Career
Hagi's club career in Romania was marked by exceptional success and a reputation as one of the country's finest footballers. He played for several top-tier Romanian clubs, leaving an indelible mark on each of them.
FC Sportul Studențesc
Hagi's senior career began with FC Sportul Studențesc in 1982. During his time with the club, he displayed his flair for creative playmaking and goal-scoring prowess. His performances quickly caught the attention of scouts from top European clubs.
FC Steaua Bucharest
In 1987, Hagi transferred to the illustrious FC Steaua Bucharest, a club with a rich history of domestic and European success. It was here that Hagi would further hone his skills under the guidance of coach Emerich Jenei.
Real Madrid CF
Hagi's remarkable abilities did not go unnoticed by European giants, and in 1990, he made a high-profile move to Real Madrid CF. This transfer marked a significant milestone in Hagi's career, as he became one of the first Eastern European players to join a top Spanish club.
Returning to Romania: Brescia Calcio and FC Barcelona
After a brief stint at Brescia Calcio in Italy, Hagi returned to Romania to play for FC Barcelona in 1994. His time at Barcelona was marked by impressive performances, but it was clear that the club was undergoing a period of transition.
Galatasaray S.K.: The Turkish Odyssey
Perhaps the most iconic phase of Hagi's club career was his time at Galatasaray S.K. in Turkey. He joined the club in 1996 and played a pivotal role in its success during his four-year tenure. Galatasaray won numerous domestic titles and achieved historic success in European competitions, with Hagi as the driving force.
International Career
Hagi's international career with the Romanian national team is equally illustrious. He represented his country in multiple FIFA World Cup and UEFA European Championship tournaments, leaving an indelible mark on the global stage.
World Cup 1990: A Breakthrough Tournament
The 1990 FIFA World Cup in Italy marked a significant breakthrough for Hagi and the Romanian national team. Romania reached the quarter-finals, with Hagi's creative brilliance at the heart of their success. His performances garnered widespread acclaim, catapulting him to international stardom.
World Cup 1994: Hagi's Leadership
Gheorghe Hagi captained the Romanian national team during the 1994 FIFA World Cup in the United States. Despite a competitive field, Romania advanced to the quarter-finals once again. Hagi's leadership and playmaking abilities solidified his status as one of the world's premier midfielders.
Legacy and Retirement
Hagi's international career spanned over 20 years, making him one of the longest-serving footballers for the Romanian national team. He retired from international football in 2001, leaving behind a legacy of excellence and unmatched dedication to his country.
Style of Play and Contributions to Football
Gheorghe Hagi's impact on football extended beyond his impressive statistics and accolades. He was renowned for his distinctive style of play, which combined creativity, vision, dribbling, and the ability to score from various positions on the pitch.
Playmaking Maestro
Hagi's vision and playmaking abilities earned him the nickname "The Maradona of the Carpathians." He possessed an exceptional footballing intelligence, often dictating the pace of matches and delivering pinpoint passes that unlocked opposing defenses.
Versatility and Adaptability
Throughout his career, Hagi showcased his versatility by excelling in various midfield roles. He could operate as an attacking midfielder, a deep-lying playmaker, or even as a forward. His adaptability made him a valuable asset to every team he played for.
Iconic Goals and Moments
Gheorghe Hagi's career was punctuated by memorable goals and moments that etched his name in football history. His ability to score from long-range, execute stunning free-kicks, and provide crucial assists in high-pressure situations endeared him to fans around the world.
Life Beyond Football
Beyond his playing career, Gheorghe Hagi has remained deeply involved in football. He transitioned into coaching and established the Viitorul Constanța academy, which has become a renowned institution for developing young talent in Romania.
Viitorul Constanța Academy
Hagi's commitment to youth development led to the founding of the Viitorul Constanța academy in 2009. The academy has since produced numerous talented players who have gone on to have successful careers in both domestic and international football.
Coaching Career
Hagi has also pursued a coaching career, with stints at various clubs in Romania and abroad. His coaching philosophy reflects his own playing style—emphasizing creative and attacking football.
Hagi's Enduring Legacy
Gheorghe Hagi's legacy extends far beyond the football pitch. His impact on Romanian football, his contributions to European football, and his influence as a coach and mentor continue to shape the sport.
Cultural Icon
In Romania, Gheorghe Hagi is not just a football legend but a cultural icon. His name is synonymous with excellence, and he remains a source of inspiration for aspiring young footballers.
Global Recognition
Gheorghe Hagi's remarkable career has earned him recognition and respect worldwide. He is celebrated for his footballing genius, leadership, and contributions to the sport's development.
Inspirational Figure
Gheorghe Hagi's journey from a small town in Romania to becoming a global football icon serves as an inspiration to countless individuals aspiring to achieve greatness in their chosen fields.
Conclusion
Gheorghe Hagi's impact on football transcends borders and generations. His remarkable career, marked by creativity, vision, and unwavering dedication, has left an indelible mark on Romanian and global football. From humble beginnings in Săcele to the heights of international stardom, Hagi's journey embodies the essence of the beautiful game. As a player, captain, coach, and mentor, he continues to inspire and shape the future of football, ensuring that his legacy endures for generations to come.